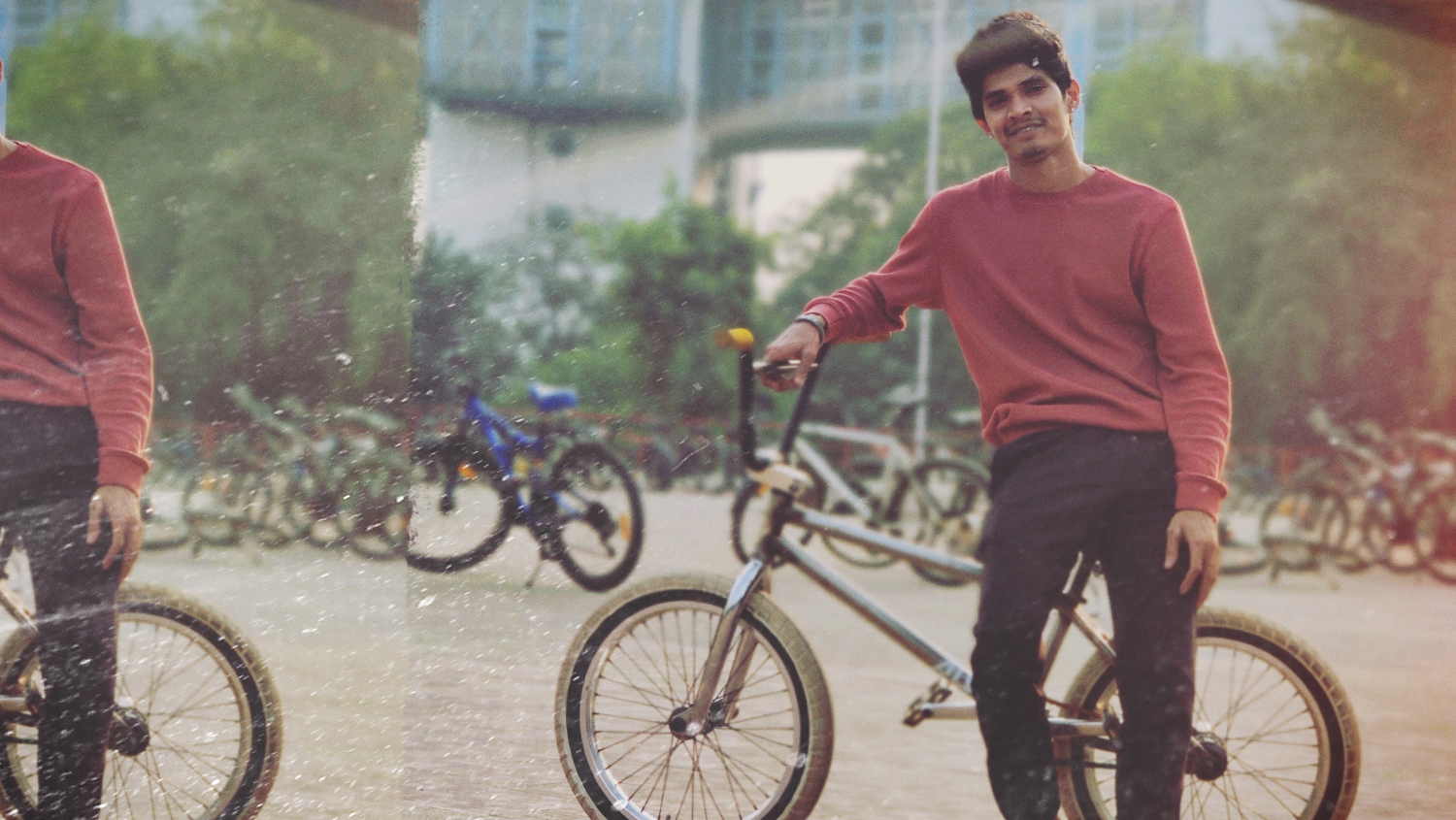 Name?
Hasu Parmar
How old were you when you first started riding and what got you into it? 
I saw a guy popping wheelies on the streets around Dharavi some 17 - 18 years ago. I still remember it like it was yesterday! That was what first triggered me to get on two wheels. I also loved watching the X-Games and that also boosted my interest in bicycles. 
I'd rent bicycles in the neighbourhood to try and learn wheelies which would result in a lot of broken rental bikes! haha So one day my mom decided to buy me a bike but it was a normal Indian 20" bike and not a BMX. By then I had started going to Bandra Reclamation beach front to ride; that's when I saw Rajas Naik, Shailesh Sawant, and a few more riders. That was the time when everyone was struggling with bikes and having a BMX was a big deal. I was introduced to Shahzad Khan, the man who gave me my first BMX. It was again an Indian assembly but still, it was something I hold very close to my heart. In the years that followed I kept riding freestyle, participated in local BMX contests and races, built bikes, broke them, and generally just sent it! 
Finally in 2010, Dipak Panchal gave me one of his street bikes and that's how I got my first street bike. This was the moment I decided to ride street and I have never looked back since. I have been mentored by the original BMX group from my city and have been actively promoting the sport with my crew ever since. 
Where did you grow up and what's your hometown like?
I was born in Dharavi, Mumbai and I still live here with my family. Our city is congested with 23 million people, and has hardly any open space. Though there is a strong street culture, it's been a matter of months, not even years, since we got our first skate park in the city.
Local spots or new places?
I mostly go to my local spots to ride because I know I will get to ride there (haha.) I ride new spots when I'm out of town or somewhere less crowded with my friends in the city.
Best city you have visited with your bike?
What if I say I haven't found the best city yet, but I have been to some of the best places across India, including high in the Himalayas, which were awesome!
What are the top 3 video parts / edits you have seen? 
 Anthem 2, Brighton Ain't Ready 1 and BSD Living for the City
What's your daily routine like?
I wake up in the morning, go to work, come back late in the evening, chill with friends in a timber yard for an hour, and go to sleep. I ride whenever possible and mostly on a Sunday when I have the day off work.
Style or stunts?
Style for sure!
What riders originally inspired you?
Matt Hoffman, Alex Donnachie, Brad Simms, Dennis Enarson, Mark Webb, Nathan Williams, Sean Burns, Dakota Roche, and many more...
And who do you like watching ride now?
I mostly like to watch all the riders who ride street.
What is the Mumbai riding scene like?
Credit for starting the scene in Mumbai goes to Rahul Mulani, who has literally been riding since the '80s. By the '90s he had put together a crew and they were doing old school flatland tricks like decades, tail whips, frame stands, surfers, pogos, and more. 
Rahul was the first one to start organising BMX jams in the early 2000's. I met him in 2007 and the following year he opened India's first and only BMX shop, which still runs online (Zealot BMX). His contribution to the scene is still going strong, mentoring and sponsoring riders in Mumbai and elsewhere.
In Mumbai till recently, BMX riders rode by themselves, in their own local spots as there was no dedicated space to ride. 
Back in 2003 when I started, there were very few riders in Mumbai but the numbers are growing, not only in Mumbai, but other cities like Pune, Chandigarh, Hyderabad, Varanasi, Kochi, Shillong, Imphal and Guwahati.
Tell us a little bit about the Sharp Tune crew?
To be honest, we at Sharptune, along with a couple of other names like Zealot BMX and MASCOT BMX, have been the pillars of the Indian BMX scene from its inception. We started to promote BMX across India by doing shows in different cities, organising competitions, and filming across the country.
Sharptune has roots going back to 1999. What started as a bunch of kids riding and having fun on BMXs and skateboards, received impetus when we met some of our mentors and senior BMX riders who used to ride back in the '80s (like Rahul), who had their bike shop called "GEAR" at the time.
Sharptune evolved over the years and started their own bike shop, which is the only physical BMX shop in India today. Sharptune continues to support the BMX scene, holds self-funded contests, and promotes good sportsmanship. Sharptune has been actively supporting riders from all across the country and I'm happy to say I've been part of it since its formation. The crew members are more like family than friends and we still ride together.
Early start or sleep in?
Most of my days start early.
Where is the last place you rode?
At my home ground, BKC, and the city's new local skate park which just opened a few months ago.
One-and-done or one-hundred tries?
10,000 tries! (Although sometimes it's one and done… it depends on what kind of day you're having.)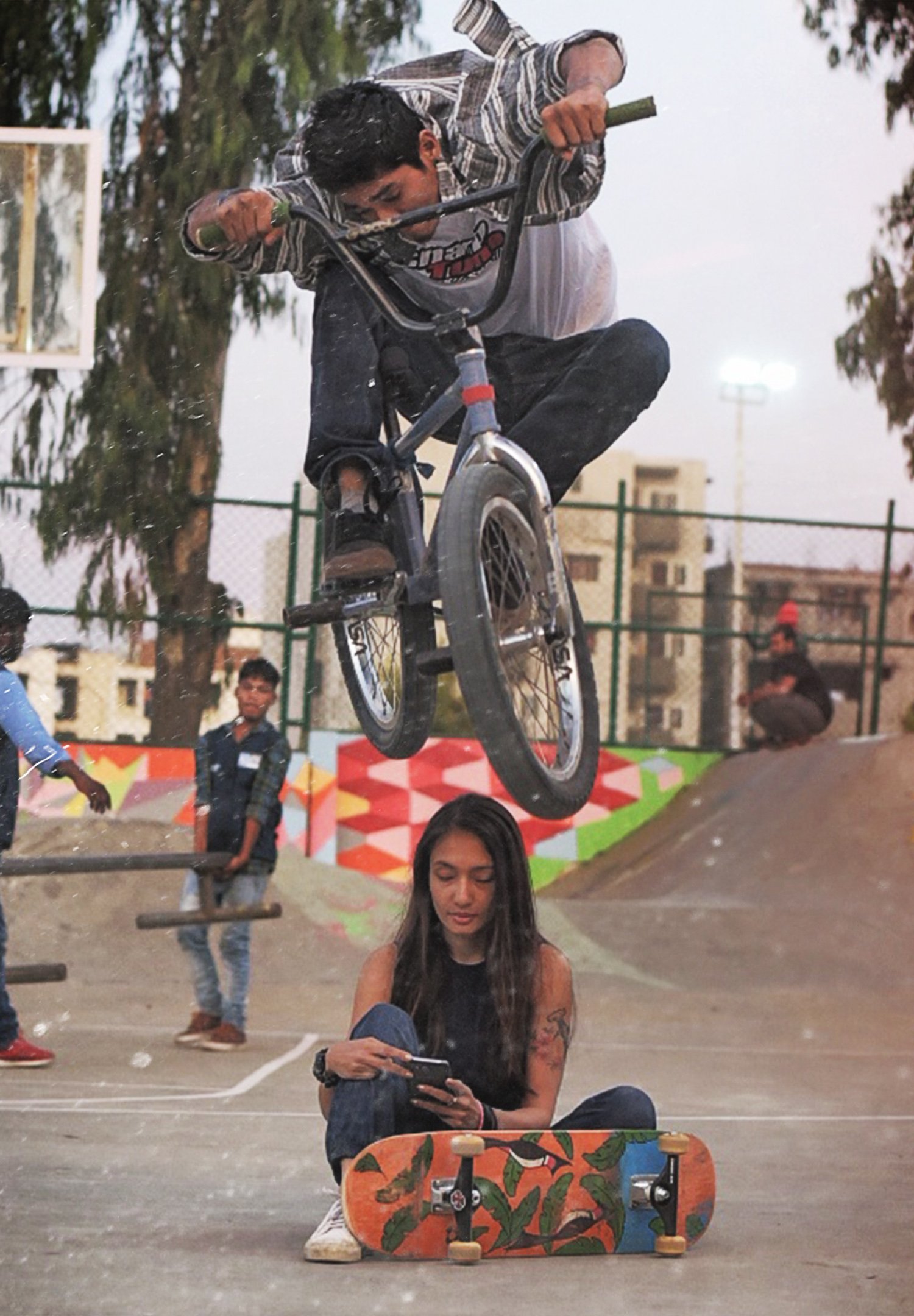 What BSD frame do you run and why did you choose it?
I'm running Alvx AF frame. I love it because he is one of my favourite riders and plus, I really like the lower standover on the ALVX frames.
How do you like to run your setup?
Two pegs, normal tire pressure and light weight!
Bike Check
Frame: Alvx AF
Fork: Acid Fork V2
Bars: Freedom Bars
Stem: Levelled Stem
Grips: Leezus Handles
Seatpost: Blitzed Post 
Seat: Soulja
Pedals: Safari 
Cranks: Substance
Chain: 1991 Halflink Chain
Sprocket: BSD Superlite
Tires: Donnasqueaks
Wheels: BSD Mindwheels
Any finals words?
I cannot believe I am getting this opportunity. It's pure passion and love for BMX that has brought me here. I never saw it as hard work, though; all the sweat and blood I have shed over the years has given me nothing but happiness. BMX has given me everything and to BSD I am forever grateful!