Year of Birth?
1982
Current place of residence?
Vancouver BC, Canada.
How old were you when you first started riding and what got you into it?
Around age 13 back in Michigan, had a buddy Brian who caught wind of a four lane BMX track in Jackson. His dad would take us. The track was tight but amazing! Built in a roughish neighborhood in what was an old lot for a house. All thx to a tower of power of a guy so fittingly named California Jon who raced serious in Cali and brought back home what he new to this houseless lot owned by his mother. The track had over under water pit jump, tight berms, and eventually a hydraulic start gate. Place was home to some sic ass dudes who loved to race and ride! A huge influence. Then my best buds and I built trails.
Up to that point I was getting crazy on bikes since age six. I grew up in Cambridge, Ontario on a street with a crew of 10 or so kids mostly older. At the campground where we stayed in summer, which was once a massive gravel pit, I hung around with kids age 18 and up and swore as much as them, took their bullshit and would ride down anything they said I wouldn't! I still remember the looks on their faces when I'd plow down 30 ft high 30º embankments of sand and rocks on a 16″ bike. Creepily empowering at that age. Moving forward its really more of the same, a kids heart always determined.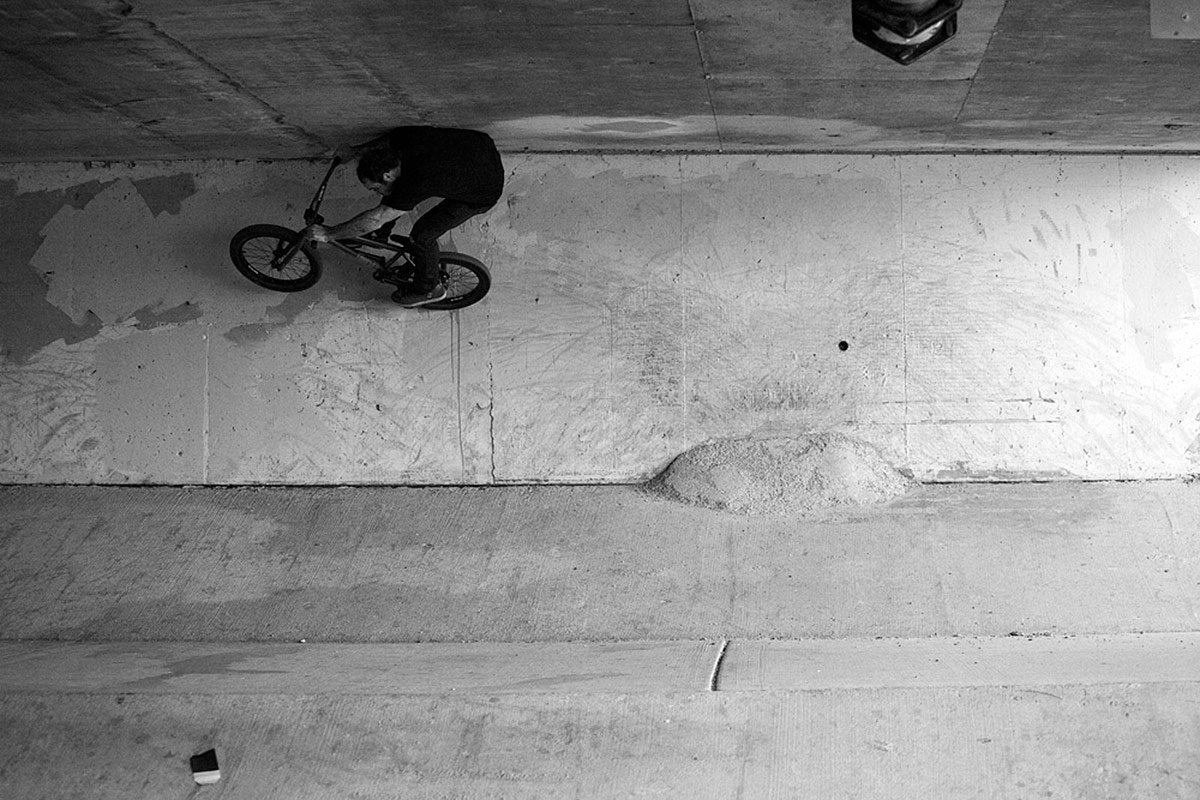 Where did you grow up and what's your hometown like?
I grew up in Preston, Cambridge, Ontario Canada, it was the best town and our posse was huge. From age 4 on we ran about a 4 block radius constant. Bikes pulling kids in wagons with 2×4's punched through the floor as brakes! Haha. Every kid should live like that. From there, when i was 8, we moved to the lower middle of the mitten Michigan. I couldn't get enough of the sports in school there but always needed bikes. At age 14, about 5 dedicated buds and I would all dig when we had half days of school. We got shit done. I miss Michigan, all my best to friends and family there.

What drew you to Vancouver?
Two great friends from Ontario had moved to Van in around '03. The scene there and there constant urging brought a buddy James Steele and I all 4,800 km across Canada in a mini van pulling a Uhaul trailer. I had $500 to my name when we pulled up. We hustled hard to rent a place in 2 days and I walked to construction sites and had a job in a week. It wouldn't have worked without a lot of hard work.
Local spots or new places?
Always trying for new places.

What was the first BMX video you owned?
Eventually when I could afford it, I think it was Nowhere Fast! First BMX media I got my hands on was a big stack of BMX Plus mags from 1982 era bought at a garage sale. They were oldies but such goodies. My best bro from Michigan, Jeff (thx bud) and I would watch trailblazin, Scum, Lights Out, S&M vids and Eastcoast trail vids a lot. Road Fools 2 was worn out! We thought it was hilarious and people were shredding street which I was starting to be keen for.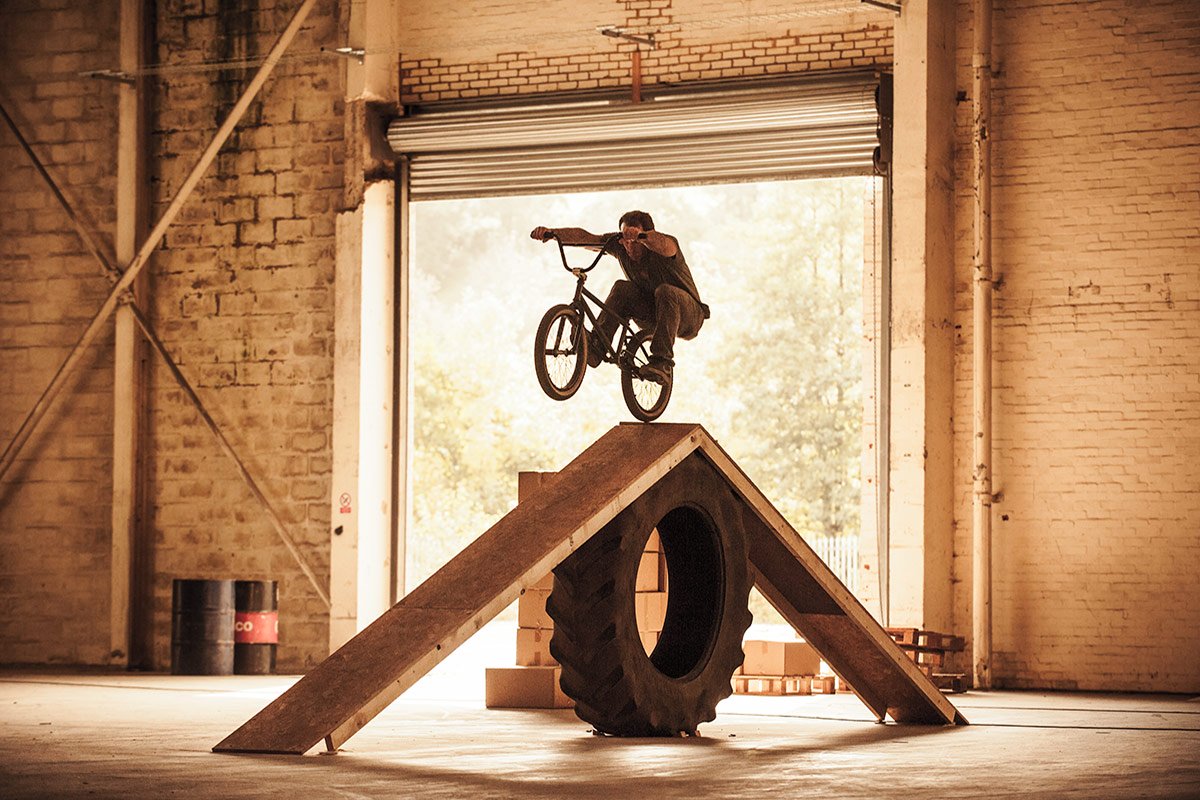 Jason and some crazy apparatus at the BSD Warehouse
What's your daily routine like?
Wake, drive 30 minutes to the shop, perform duties as shop foreman/driver and concrete tech. Drive home..Ugh! Hang or quick hello and food with my VIP lady Becky. Then procrastinating home tasks or ideally getting out riding with Jordan's (Hango/Ross) 450 crew, and Atlantis shop fellas. Film with Riley McMaster, Mike Sharpe, Jordan Ross and whoever is so kind. Thx yous. Home to feet in the ice bucket, chill, sleep, hopefully repeat. This is a good day. Weekend's are less work more fun!

Style or stunts?
Ah style… and then a stylin stunt to finish.

What riders originally inspired you?
Hoffman, Miron, Foster, Homan, East coast trail riders and builders, Taj, Joe, Ruben, C. Martinez. This awesome pro bmx dude that came to Preston elementary and did a demo when I was in second grade! He did flat, bunnyhopped 8 kids, killed It. Wish I knew who he was… Mid Michigan trails scene at kiddie corrale in Jackson. Block brothers! Eric and Brian; One day I was blown away by them and all other times after. Nate Hoff. All my friends who raced and dug. Then when I was 16 and drove to Ann Arbor to ride UofM campus I met Dan Mansell! One of a kind best friend and the single biggest street riding influence I could've had. He'd do 20mph 20′ inside ledge planter smiths! And a nearly 5′ high 6 stair 180 hop back in '97. Shame he wasn't sponsored or filmed… He just got thru a heavy load of chemo while fighting testicular cancer, so tough that guy. I do a lot of what I do 'cause of Dan.

And who do you like watching ride now?
Jordan Hango, best bud and unreal to watch. Just got another dose of Kriss, Alex, and Dan all at once and in person. Their skills are abundant and a joy to watch. BSD team! Just deep, different, and talented beyond. Dave Laliberte can bust big with styles! BVD, Adam Piatek, Corey Walsh are in view a lot here in BC and they're next level by a ways…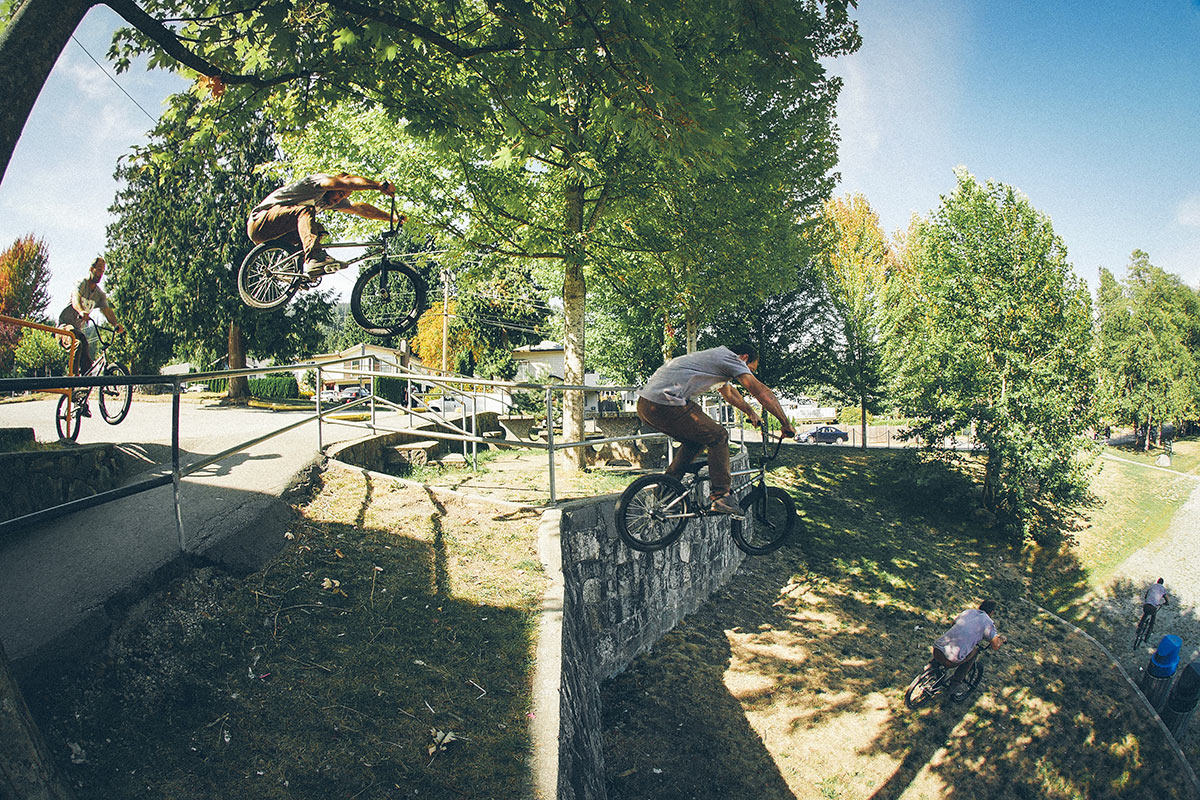 I'm always trying to find new place to ride.

Jason Teet
What is the Vancouver riding scene like?
The scene in Van is coming together more than ever. It's big, building up more and is simply loaded with good attitudes and talent of all ages. Basically the above I mentioned plus don't forget Sam Lowe, James Steele, Amos Franke, Greg Flag… MacNeil team guys are deep here in Vancouver. Killemallbmxdistro team, all are talented and good people! The Atlantis shop crew and Orlando have awesome things happening and are putting out great vibes and edits. On and on continued…

You kill it in the streets, park and trails. Do you have a favourite or do you just like to mix it up?
Mix it up is what happens most. However when im in the woods, trails are favourites. Streets are just out the back door and a calling. Parks are crazee here and can be a killer session too.

Early start or sleep in?
Depends on how good the day before was and if anyone showed up with beer! Ive never regretted an early start though.

Where is the last place you rode?
Alleyways around my place here in west end Vancouver. I take different routes and can always see something new in an old alley.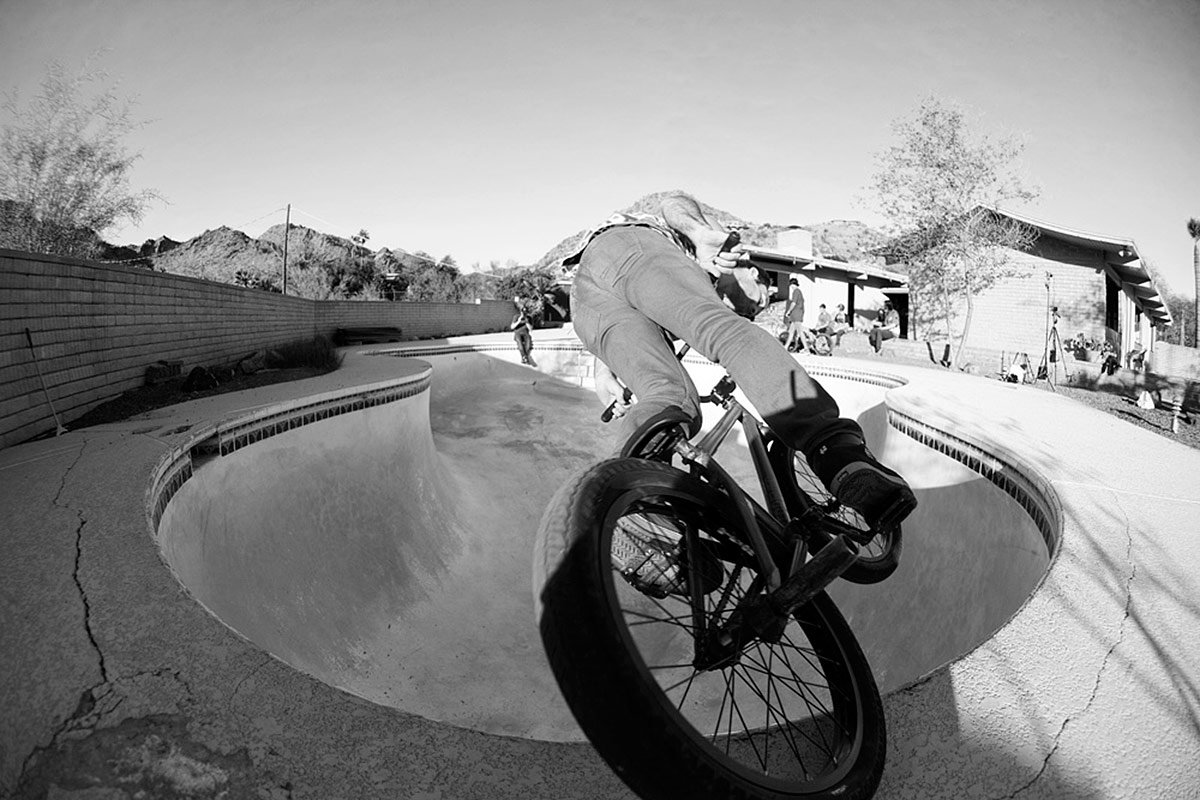 One-and-done or one-hundred tries?
For me it should be one or two, or I should walk away and spare myself the torment!

What's the hardest you've worked for a clip?
Seems like its whenever I get an idea and don't pull it right away or in 5 attempts. The BSD trip to Vancouver haha! Busting my feet up one day for 20 goes. Then two days later I go ten attempts at something but blow a hand catching a bar spin that was there just to do 50 attempts more! I get it but not happy..20 more! Bicep is pulled and im done. Filming is difficult 50% of the time I'd say. But worth its weight.

You helped out a bunch with the concrete quarter we built for the Living for the City video. Tell us about that experience and how you got your concreting skills.
That was a fun experience and somthing unique to work on. Concrete can last a long time and in the time it takes to form and create you become tied to it putting your energy and touch to it. There is a lot of reward in that, especially when it comes out good. Even more on a quarter the size of the one in Living for the city. It was a challenge for me working on such a big vertical surface and a lot of people helped out to get it done. Having a dedicated crew who will stay in there thru to the end not give up when things are not going as planned is the hard part.

I learned about placing and the proper process of finishing concrete from a great boss and mentor Jack Rathburn. Owner of his own company back in Michigan. The Concrete quarter in Glasgow did not go exactly as Dave, Si, Dan and later I had planned but in sticking to it and improvising and never stopping (which u cannot do when pouring placing and finishing) we all pulled it off. Riding it was an entirely gratifying conclusion to all the sweat and near tears, haha!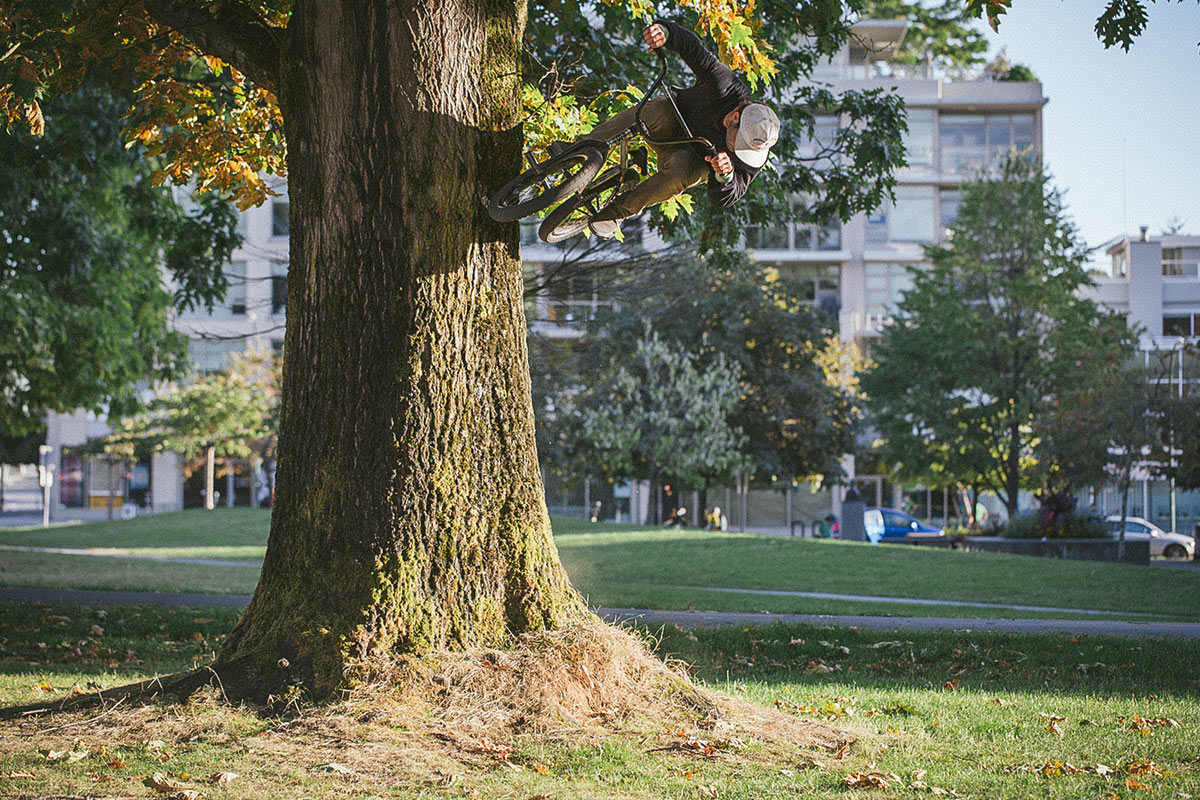 What BSD frame do you run and why did you choose it?
Passenger 21.1″. It's an interesting and useful mix of geometry which I'm finding suits my mix of riding real well.
How do you like to run your setup?
Longish up front and in the rear for my height of 5′ 8″ tall. A short rear is great for many things but I find hampers some abilities on big jumps at the trails. My rear axle is just a touch past the middle of the dropout.
Final words…
As if I ever need more words… Haha! Thx to all my family (Mom I miss u) for letting me go and do whatever it is I needed too.. (home is where u die) You are all knowing and believing and calm and peace for me. Not sure how you delt with my addiction to speed, adrenaline and pain. Same to my one and only patient partner with all virtue, Becky. Michigan buds are the best to have and to have learned from! Best to Ontario pals and all in the past near or far you know who you are. My best friends near me here thx for the support and the best times to be continued…